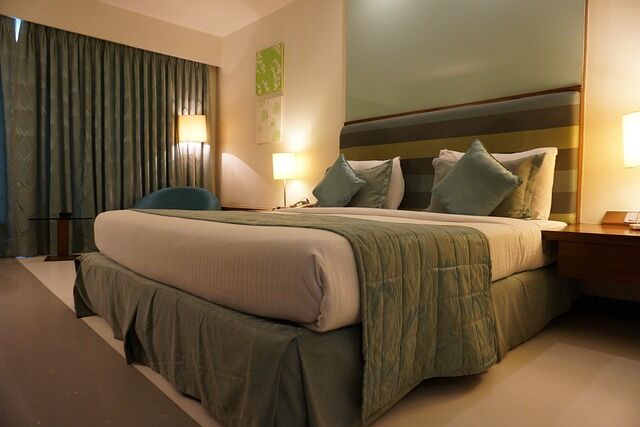 Nowadays, when planning a trip, travellers have to choose what type of accommodation they want to stay in. The most common option is still a hotel, but serviced apartments are becoming increasingly popular, especially for those on extended business or leisure trips. Serviced apartments offer more space and privacy than hotel rooms, and they also usually have a kitchen so that guests can prepare their own meals, as well as good sustainability in aparthotels. In addition, many serviced apartments are located in residential areas, which can give visitors a more authentic experience of the city they are visiting. For all these reasons, serviced apartments are an increasingly popular choice for travellers.
Read on to learn more about the differences between a hotel room and a serviced apartment.
1. Living space
When traveling for business or pleasure, many people are faced with the decision of whether to stay in a hotel room or rent a serviced apartment. While hotel rooms can be convenient, they often lack the space that is necessary to truly relax and feel at home. Serviced apartments offer travellers the best of both worlds, providing all of the amenities of a hotel room with the added benefit of extra living space. On average, these apartments provide you with 30-50% more living space compared to a hotel room. Whether you need a place to work, relax, or simply spread out, a serviced apartment is the perfect solution.
2. Kitchen
A hotel room is not a place where you would expect to find a kitchen. If there is one, it is usually tiny and lacks the essentials for cooking. On the other hand, a serviced apartment will always come with a full-sized and fully equipped kitchen. This way, you can prepare homemade meals and store food in the fridge without having to worry about a lack of space or resources. Not only is this healthier for you, but it also saves you money in the long run by cutting out the need to eat out all the time.
3. Furniture
Whenever you travel, it is important to feel at home in your accommodations. Hotel rooms can often feel sterile and impersonal, but serviced apartments provide all the comforts of home. Fully furnished and equipped with all the necessary amenities, serviced apartments make it easy to settle in and relax. Whether you need a desk to work at or a place to do your laundry, serviced apartments have you covered.
4. Length of stay
When deciding where to stay for an extended period of time, it is important to consider all of your options. While a hotel may be less expensive initially, the cost of meals and laundry can quickly add up. In addition, hotels are not designed for long-term stays, and you may feel cramped and uncomfortable after a few days. A serviced apartment, on the other hand, offers all the comforts of home, including a kitchen, laundry facilities, and plenty of space. While the initial cost may be higher than a hotel, you will save money in the long run by being able to prepare your own meals and do your own laundry. Serviced apartments are also more convenient for those who need to work during their stay, as they offer a quiet and comfortable place to focus on getting the job done.
5. Cost
If you're planning on staying in town for an extended period of time, a serviced apartment is a much more cost-effective option than a hotel. You can expect to save 30-50% on average, with the added bonus of being able to prepare your own meals rather than relying on room service or dining out. In some cases, you may also be able to take advantage of tax savings by choosing a serviced apartment over a hotel. However, this will vary depending on your municipality and the length of your stay.
6. Amenities
Although amenities vary between hotels and serviced apartments, there are a few key amenities that are typically included in serviced apartments that may be lacking in hotels. These include a pool, roof deck, attended lobby, fitness center, laundry facilities, terrace, and resident lounges. In addition, many serviced apartments are pet-friendly, while hotels typically are not. Finally, while most hotels charge an additional fee for WiFi, serviced apartments almost always include it. As a result, serviced apartments can provide a more comprehensive list of amenities than hotels, making them a better value for the money.